Manual foot operate tube sealing machine
Model No-CF-2 use for cosmetic, chemical lab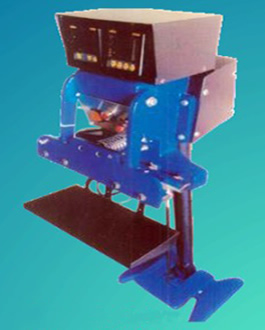 This Manual tube sealing machines is multi purpose tube sealing machine.It is a best quality tube sealing machine.It Has a Height Sealing Adjustment according to client requirement. Two tubes can be sealed at one time with this tube sealing machine.Manual tube sealing machine is basically of Good Class with Best sealing quality.It Is A fully automatic tube sealing machine.Best tube sealing machine in India.
Paddle operate tube sealing machine(paste sealing)
TECHNICAL SPECIFICATION :
•
Machine diamension 12"W X 1000 H 12"L
•
Machine made by aluminium costing
•
Operating system soft spring with paddle
•
Heating jab=EN8+2nos
•
Batch coading and ambosing jb+2nos
•
Micro second timer kit 220v
•
Digital temperature controller 0 to 400 degree
•
L×WXH 800X400X1420
•
3/8 X 125mm pencil heater 220v
•
Tune beep a/c 220v-buser cut/off timing
•
10amp holder fuse for safety
•
6amp on/off switch


SUPER PACKAGING MACHINE


Four Star Compound, Chimat Pada, Near Metro Railway Station,
Marol Naka, Andheri (E), Mumbai-400059, Maharashtra, India.

Tel. No: +91-22-28508239
Mob. No: +91 - 9833421070